The literal translation of the pre-revolutionary russian explanatory dictionary:

Presidency, the official name of the administration, for example, in the British India colonies.

President@Etymonline:

It had been used of chief officers of banks from 1781, of individual colonies since 1608 (originally Virginia) and heads of colleges since mid-15c.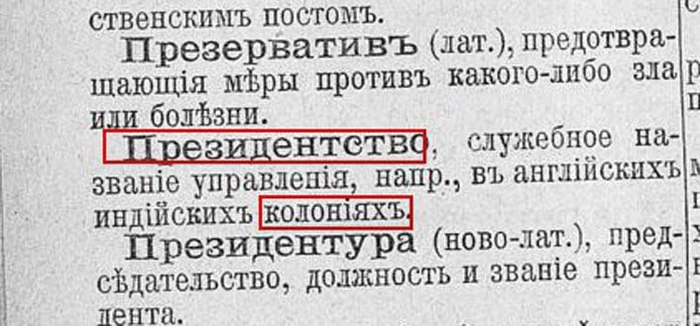 Цитата из дореволюционного русского толкового словаря:

Президентство, служебное название управления, например, в английских индийских колониях.

Президент@Etymonline:

Термин использовался руководителями банков с 1781 года, отдельными колониями с 1608 года (первоначально Вирджиния) и главами колледжей с середины 15 века.

#administration #colonialism #cryptocolonialism #democrazy #etymology #metaprogramming #president #presidency #property #revision #uk