The Daughter of George VI (His Imperial Majesty The King, Emperor of India and first Head of the Commonwealth) Elizabeth with husband bows their heads in the faces of Emperor of Ethiopia and Empress Menen Asfaw.
Elizabeth II from the Windsor dynasty as part of the Saxe-Coburg-Gotha dynasty.
Emperor of Ethiopia is the Negusa Nagast (semitic: ንጉሠ ነገሥት nəgusä nägäst, "King of Kings") from the Solomonic dynasty. His full title in office was "By the Conquering Lion of the Tribe of Judah, His Imperial Majesty Haile Selassie I, King of Kings of Ethiopia, Elect of God".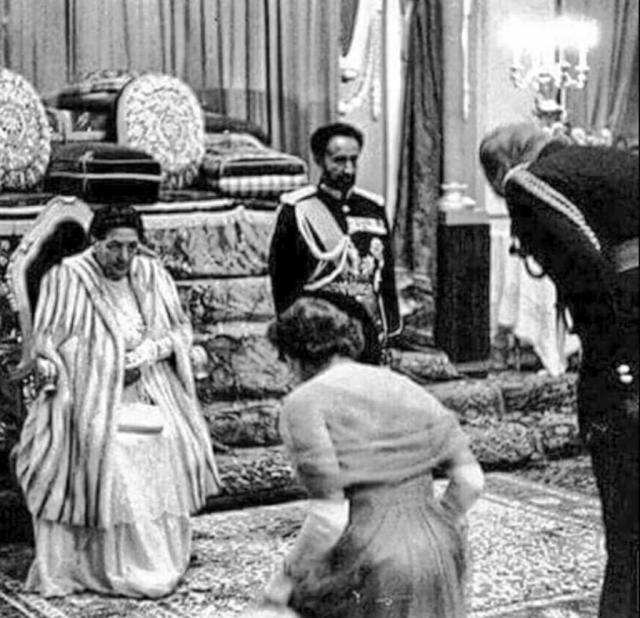 #^

https://twitter.com/Namaste2525/status/1001493513366855680
Дочь Георга VI (Его Императорское Величество Король, Император Индии и первый Глава Содружества) Елизавета с мужем склоняют головы перед лицами Императора Эфиопии и Императрицы Менен Асфо.
Елизавета II из династии Виндзоров, как части Саксен-Кобург-Готской династии.
Император Эфиопии является Негуса Нагаст (по-семитски: ንጉሠ ነገሥት, nəgusä nägäst, «Царь царей») из Соломоновой династии. Его полный титул при исполнении служебных обязанностей был "Лев-победитель из колена Иудова, избранник Бога, Царь Царей Эфиопии".
#aristocracy #christianity #conspiracy #documents #emperor #ethiopia #history #property #rastafari #revision #semitic #uk