Many religions worship the mythical kings who exterminated many tribes. In my religion it is not customary to worship such dubious historical characters. Erisians honors the memory of true, credible leaders who have not stained their hands with someone else's blood (and no one is obliged to recognize their authority, we only honor the memory).
Today, the 8th day of Chaos, a special holiday:

Commemorating the Life and Memory of His Imperial Majesty Emperor Norton I, Emperor of the United States and Protector of Mexico, who left us on this day in 3046 YOLD. Celebrated at Colma gravesite.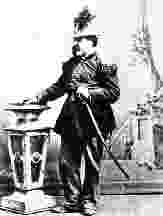 Многие религии почитают мифических царей, истребивших многие народы. В моей религии не принято почитать таких сомнительных исторических персонажей. Эридизм чтит память настоящих, достоверных лидеров, не запятнавших своих рук чьей-либо кровью (да и признавать их власть никто не обязан, мы только чтим память).
Сегодня, 8 хаоса, специальный праздник:

В память о жизни и деяниях Его Императорского Величества Императора Нортона I, Императора Соединенных Штатов и Защитника Мексики, который оставил нас в этот день в 3046 году. Отмечается на могиле Колма.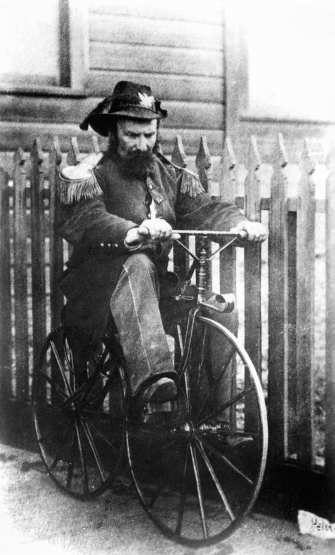 Imperator Norton issued his own money in the form of scrips which were accepted from him by restaurants and shops in San Francisco. These notes came in denominations between fifty cents and ten dollars, and the few surviving notes are collector's items. The city of San Francisco also honored Imperator. When his uniform began to look shabby, the San Francisco Board of Supervisors bought him a suitably imperial replacement. Norton sent a gracious thank you note and issued a "patent of nobility in perpetuity" for each supervisor.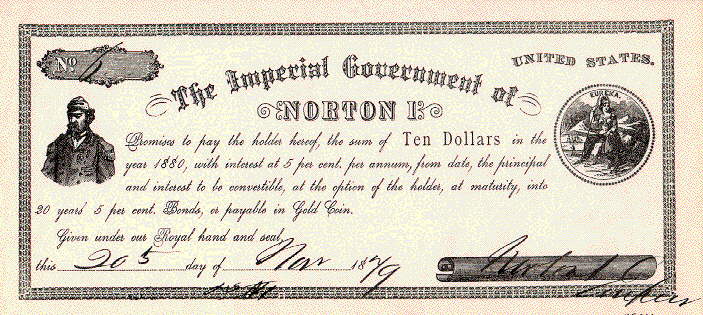 Император Нортон выпускал свои собственные деньги в виде расписок, которые принимались от него ресторанами и магазинами в Сан-Франциско. Эти банкноты были купюрами от пятидесяти центов до десяти долларов, и немногие сохранившиеся банкноты сегодня очень сильно выросли в цене. Весь город Сан-Франциско почитал Императора. Когда его форма стала выглядеть потертой, Наблюдательный совет Сан-Франциско купил ему подходящую имперскую замену. Нортон послал благодарственную записку и выдал «патент на вечное благородство» для каждого поучаствовавшего руководителя.

#bank-paper #emperor #erisian #holiday #memory #money #norton #past