117 years ago there was the Dogger Bank incident:







Маркшейдер Кунст - Крейсер «Аврора» (песня)
by zlaxyi on YouTube

Dogger Bank - shoal in La Manche, next to which on October 8, 1904, Admiral Rozhestvensky, chief of the Baltic squadron sent to the Far East, bombed the British fishing boats, taking them for the Japanese destroyers. During the bombing several shots hit the cruiser "Aurora", killing and wounding several people. The case was settled by an international commission of inquiry in Paris, according to which the Russian government had to pay the British losses.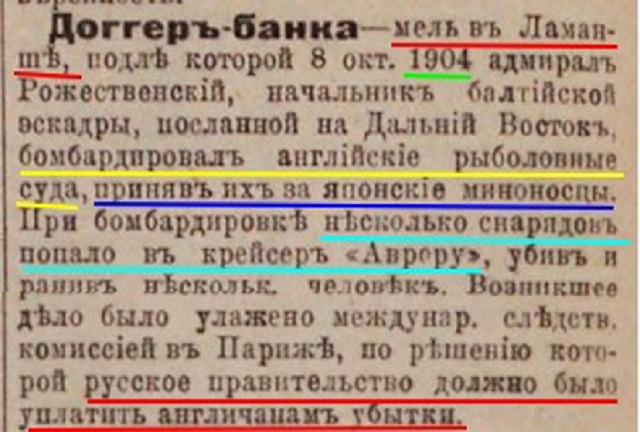 bskamalov@lj commented:

It's getting weirder and weirder 1905 and everything about it... I understand that the Scots had no globes and they did not know that the DOGGER-bank at the site of the DOGGERLAND sunken is on the other side of the world from Japan and expected to meet there Japanese destroyers, but then begins fantastic ... professional sailors managed to confuse fishing junks of the British with Japanese warships!
It's not enough to confuse it and manage to damage the battle cruiser "Aurora" when firing to the imaginary "Japanese" (fishing boats)! It is not clear: is it was the Russian or the British cruiser ... If the British, it's fun to see a warship among the fishing junks. And if it was Russian... ...it's "unimaginable"... because the Russians had to pay damages to the British after that.


As noted by the Russian-language Wikipedia, the shells hit the Russian "Aurora":

The cruiser "Aurora" was hit by 5 shells fired by Russian ships, which fatally wounded the ship's hieromonk Anastasiy Rukin (his arm was torn off, in October 1904 he died in the Tangier hospital) and easily - the gunner.


ve_gas@d3 noted:

I wanted to clarify information about the "Dogger-Bank" incident and came across the origins of "fake news" long before the invention of Photoshop.
The retouch in the service of sensationalism.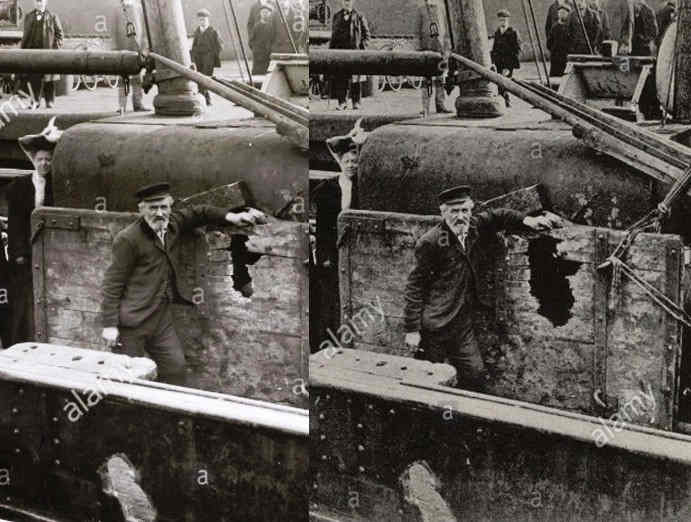 It is noteworthy that the Russian cruiser Aurora was made according to the prototype of the English cruiser Talbot, after Dogger Bank it participated in the Battle of Tsushima (during which, as it is stated, dozens of Russian ships were sunk, many of them were sunk by their own crews). But the most famous cruiser "Aurora" for its role in the October Revolution. According to the research of modern revisionists, generally accepted ideas about imperial conflicts of the past, initiated by close relatives, may be grossly exaggerated, as documentary materials are discovered that demonstrate previously almost unreported behind-the-scenes relations of a closely related aristocracy of German origin.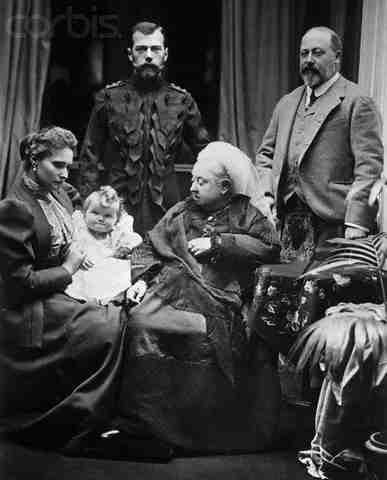 Russian Emperor Holstein-Gottorp-Romanov, 802th Knight of the Most Noble Order of the Garter, in the uniform of the commander of the Scottish Dragoon Guards along with the British imperial family of Saxe-Coburg-Gotha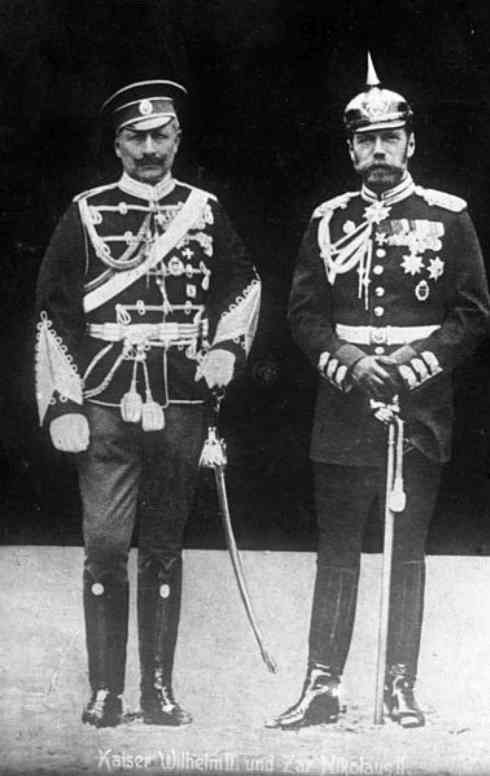 The German Emperor, 767th Knight of the Most Noble Order of the Garter, and the Russian emperor changed their uniforms on the occasion of the conclusion of the secret Treaty of Björkö

#aurora #documents #doggerbank #doggerland #fakenews #germany #hoax #memory #past #revision #royal #russianempire #uk

originally posted on ussr.win