105 лет назад российский имперский еженедельный военный журнал "Развѣдчикъ" №1309 сообщил:

105 years ago, the Russian Imperial weekly military magazine "Razvadchik" №1309 reported: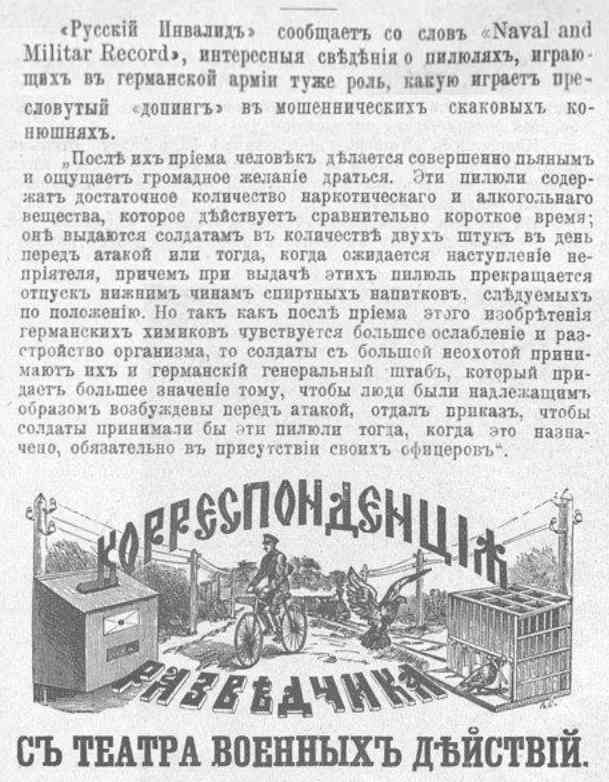 Russky Invalid reports from the Naval and Militar Record interesting information about the pills playing the same role in the German army as the notorious "doping" in cheating at horse races.
"After taking it a man becomes absolutely drunk and feels a tremendous desire to fight. These pills contain a sufficient quantity of narcotic and alcoholic substance which is effective for a comparatively short time. Two pills are given to the soldiers per a day, before an attack or when the enemy is expected to attack. And when these pills are given out, the supply of liquor to the lower ranks, following the regulations, is discontinued. But as after using this invention of German chemists, weakening and derangement of organism is observed, so soldiers with big reluctance take these pills. The German General Staff, who attached more importance to the fact that the men were properly actuated before the attack, ordered the soldiers to take these pills when they were instructed to do so, necessarily in the presence of their officers."
The map of the Baltic Sea, with white dotted lines showing the route of British submarines and white crosses showing where they had sunk German smuggling merchant ships ("The Graphic"):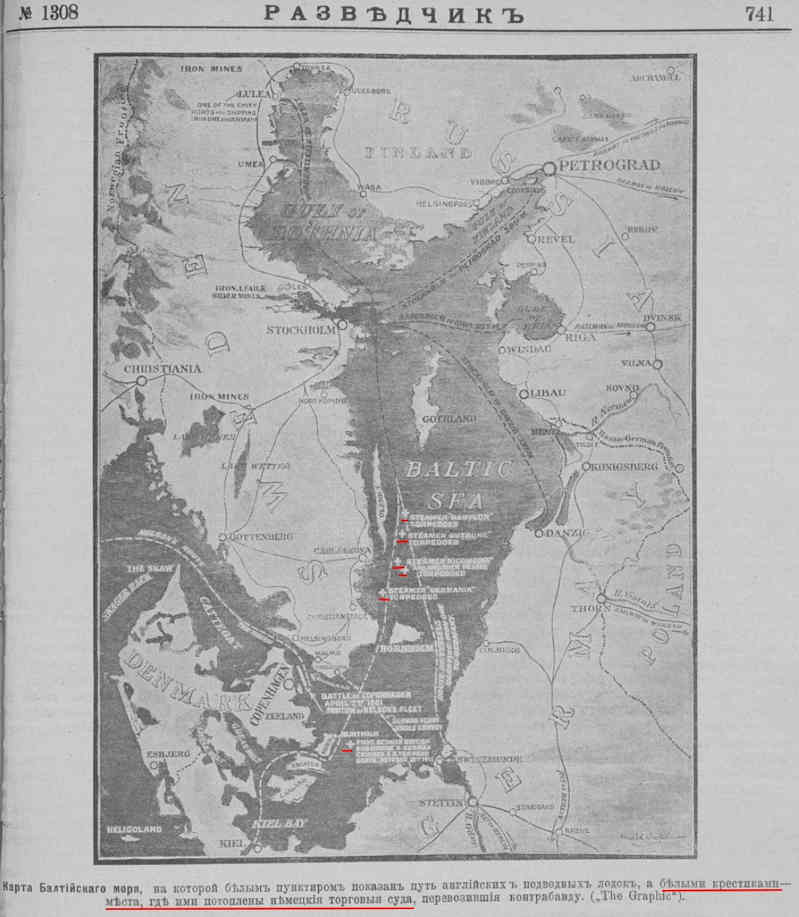 Это надо же так ссать кипятком перед германцами что приписывать свои победы англичанам !!! Какой самоубивец англичанин на подлодке до истеричного образца рискнет влезть в Балтику сквозь германские кордоны ? Естественно что и германцы не дураки и не пропустили ни одной английской подлодки в свою лужу. Работали подлодки "увяликих". Но что то заставляло их отнекиваться от своих побед. Что ?



#austria #doping #drugs #germany #past #pills #revision #smuggling #technology #war #wwi

Source:
https://ussr.win/item/2b07e9ad-e082-40e8-8a07-8b5c20107d5e