The very first reference to Stonehenge published on the web has be found. It is claimed to have been published 420 years ago: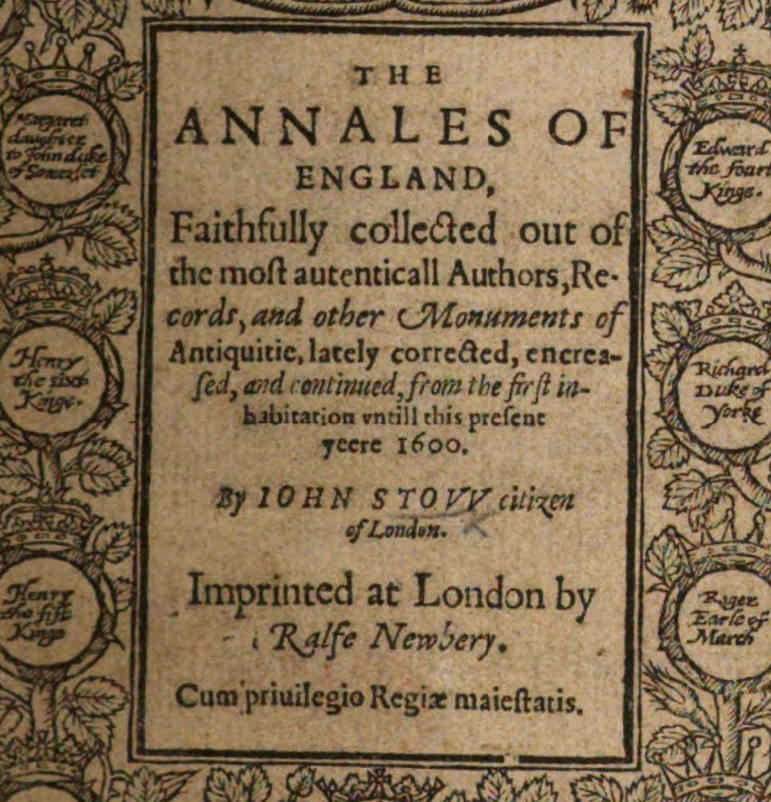 You can clearly read the title of this book from the British Museum collection:

The Annales of England, faithfully collected out of the most autenticall Authors, Records, and other monuments of Antiquitie, lately corrected, encreased, and continued, from the first inhabitation untill this present yeere I600.

For some reason the British Royal Collection does not publish the title page of the later edition, and names this important historical work slightly differently:

The Annales of England, faithfully collected out of the most autenticall authors, records and other monuments of antiquitie, lately collected, from the first habitation untill this present yeare 1605.

"Corrected" turns into "Collected", and there is no mention of the "Increase" and "Continuation" of the English Annals. And of course, as is often the case, the Latin letter "I" in front of the three Arabic numerals, turns into an extra 1000 years of Gregorian calendar dates.

By IOHN STOVV citizen of London

In this recent revision of the legacy of 'John Stow' mudraya-ptica@lj discovered:

Turns out he was a poor and illiterate 16th century antiquary who published and wrote many books, notably historical chronicles and a detailed description of the city of London.
It is not clear what he actually did, but at the age of 35 he suddenly met famous antiquaries and a year later had already published a collection of Chaucer's works.

mudraya-ptica@lj also discovered books by the full namesake or historical duplicate of John Stow, "a lay-member of the Church of England", who lived some 200 years ago.
Further, on the title page of the annals is printed:

Imprinted at London by Ralfe Newbery.

That is, it was printed in London by a certain Ralfe Newbery, of whom nothing is known except that he is mentioned as the publisher of several ancient books.
It is worth noting that much information has survived about Ralfe's namesake (by last name) and Stow's namesake (by first name) - John Newbery, also a publisher, who lived just over 250 years ago:

Called "The Father of Children's Literature", was an English publisher of books who first made children's literature a sustainable and profitable part of the literary market.

Notably, some of his fellow believers were convicted of literary falsification and one of them was even executed for it:

The unfortunate Dr. William Dodd, who was hanged for forgery, was connected, like Smollett, with the 'British Magazine,' and he also edited from 1760 to 1767 the first religious magazine, which was projected by Newbery in 1760, and was styled 'The Christian Magazine.'

And the title page concludes with the Latin phrase:
"Cum Privilegio Sacrae Regiae Maiestatis" - "with the privilege of royal majesty".

And here is the very mention of Stonehenge from these Annals of the most Authentic Authors: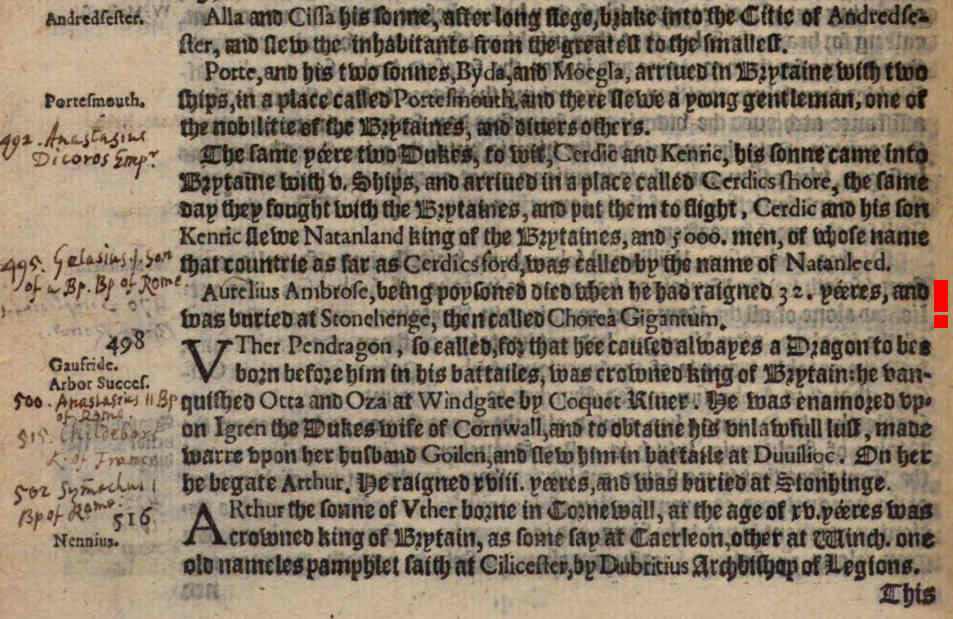 There are noticeable embeds of the 200-year-old English script (this is my subjective assessment at a glance) in the old Gothic text, with such stylistic dissonance occurring only on toponyms and names, but not on all of them. The text also preserves enough toponyms and names written in the original Gothic script.
This is noticeably better on the black and white version: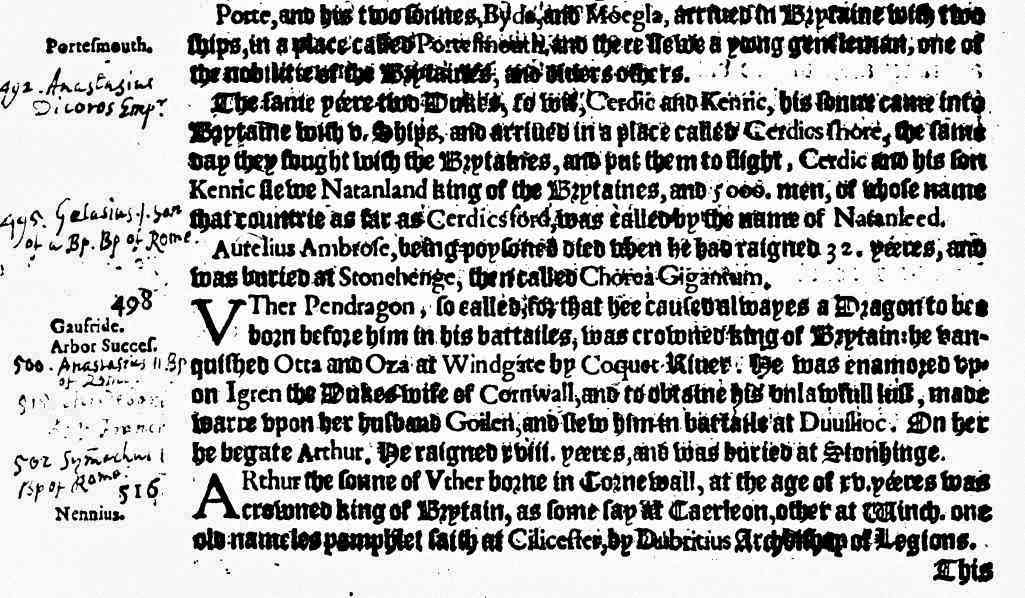 In my opinion, it made no sense to do so in the first place. But later editing an old text later in this way and sending it out to the relevant authorities to replace the outdated uncorrected Gothic copies might have made sense. Perhaps 200 years ago such "Annals of Authentic Authors" with a postmodern text design would not have raised too many questions and were indeed printed and distributed en masse.
And here is the first reference to Stonehenge itself, from this most authoritative and important of historical books for England itself, as well as for the entire British Empire:
Aurelius Ambrose (written in modern script, probably referring to Aurelius Ambrosius) being pysoned died when he had raigned 32. (the age is given in Arabic numerals, whereas the Gothic text uses Roman letters to write the numbers) yeeres, and was buried at Stonehenge (written in modern script, like Ambrose), then called Chorea Gigantum (also written in modern script).
Ambrose of Mediolanus, according to modern historical data, was born over a thousand and a half years ago in the glorious city of Trier, near Switzerland (he was a fellow countryman of Karl Marx), and was buried at Milan, not at Stonehenge.

My amateur superficial analysis showed that the English typeface used to correct some of the names and place names on the Gothic text of the Annals, published by Ralfe Newbery, matches [url=]the typefaces used in the later books by John Newbery. Of course, the professional expertise would be required to legally recognise the historical document as a forgery and match its authorship to the alleged candidates. But until such an expertise is carried out and its results published - the reign of the German Saxe-Coburg-Gotha dynasty on the English throne justified in these Annals is as legitimate as the authenticity of the authors of the Annals themselves (and thus of the historical data they provide).
ODD# I(e)/5,v;55Aft3186
honi soit qui mal y pense
#anglican #annales #chronology #cryptocolonialism #documents #england #fonts #forgery #germany #goth #hoax #past #property #revision #timespace #uk

originally posted on ussr.win