Exactly 51 years ago the NASA mission Biosatellite 3 was launched

A 6-kilogram Macaca nemestrina (Macaca nemestrina) pigtail male named Bonnie was supposed to fly in Earth orbit for 30 days. However, after only 8.8 days in orbit, the flight was stopped due to worsening health conditions of the examinee.
Bonnie, dubbed by the U.S. press as an "astro monkey" (unlike the chimpanzees from earlier U.S. missions nicknamed "chimpanauts") died on July 8, the day after the biological capsule was successfully placed in the Pacific Ocean.


Ровно 51 год назад стартовала миссия NASA - Биоспутник-3

Предполагалось, что 6-килограммовый самец свинохвостого макака (Macaca nemestrina) по имени "Бонни" будет летать на земной орбите в течение 30 дней. Однако после всего лишь 8,8 дня пребывания на орбите полет был прекращен из-за ухудшения состояния здоровья обследуемого.
Бонни, названный американской прессой "астрообезьяной" (в отличие от шимпанзе из более ранних американских миссий, которых прозвали "шимпанавты") умер 8 июля, на следующий день после успешного нахождения биологической капсулы в Тихом океане.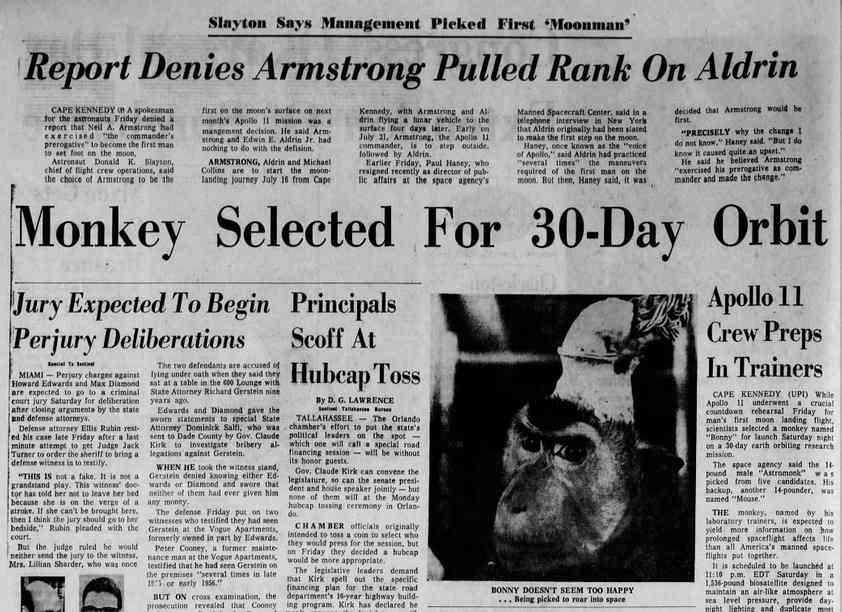 Bonny doesn't seem to happy...being picked to roar into space

The research spacecraft with the primate on board rotated in orbit about 200 km, but the experiment was stopped because of the sharp deterioration of the health of the macaque just a few days later. Bonnie died a day after returning to Earth. In comparison, the ISS spins at an altitude of about 400 km.
According to media reports of those times, less than a month after this NASA scientific experiment, space pioneers Neil Armstrong and Buzz Aldrin walked on the moon during the week-long Apollo 11 mission.

Исследовательский космический аппарат с приматом на борту поднялся на высоту около 200км, но эксперимент был прекращён из-за резкого ухудшения здоровья макаки всего через несколько дней. Бонни умер через день после возвращения на Землю. Для сравнения: МКС вращается на высоте около 400км.
Согласно сообщениям прессы тех времён, менее чем через месяц после этого научного эксперимента NASA, космические пионеры Нил Армстронг и Базз Олдрин ходили по Луне, в ходе продолжающейся неделю миссии "Аполлон-11".

🔗 https://web.archive.org/web/20081019010450/http://nssdc.gsfc.nasa.gov/nmc/spacecraftDisplay.do?id=1969-056A

#astromonk #astronaut #biosat #macaca #nasa #orbit #past #primacy #primat #revision #science #space #spacemonkeys #timespace #technology #usa

originally posted on ussr.win