79 years ago, Nazi Germany invades the Soviet Union, on this anniversary a cargo train with 600 tons of "uranium tails" went from the German city of Gronau to Russian Federation.
On June 22, a cargo train with 600 tons of radioactive waste went to Russian Federation from the Urenco uranium enrichment plant in German Gronau, the environmental public organization Ecozaschita reported on Tuesday, June 23.
Six shipments of radioactive waste, 600 tons each, had already arrived in Novouralsk earlier.
The uranium "tails" are stored in the open air, and the storage sites can be seen in satellite photos of Google maps (Novouralsk, Angarsk, Seversk, Zelenogorsk).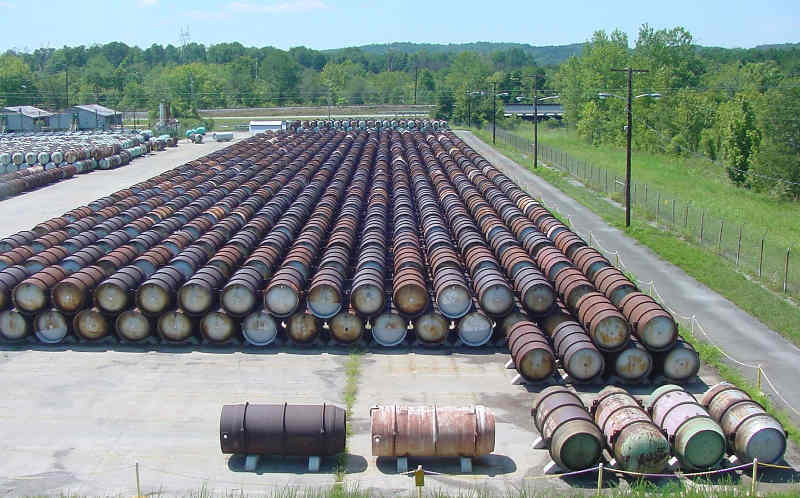 В день когда 79 лет назад Германия напала на Советский Союз, из немецкого города Гронау в Россию отправился грузовой состав с 600 тоннами "урановых хвостов".
22 июня грузовой состав с 600 тоннами радиоактивных отходов отправился в Россию с комбината по обогащению урана Urenco в немецком Гронау, сообщила экологическая общественная организация "Экозащита" во вторник, 23 июня.
Ранее в Новоуральск уже прибыли шесть партий радиоактивных отходов по 600 тонн каждая.
Урановые «хвосты» хранятся под открытым небом, и площадки складирования можно увидеть на спутниковых фотографиях Google maps (Новоуральск, Ангарск, Северск, Зеленогорск).

🔗 https://www.bbc.com/news/world-europe-53156266
🔗 https://www.dw.com/ru/из-германии-в-россию-отправлен-новый-груз-с-ядерными-отходами/a-53907963
🔗 https://shapito.d3.ru/germaniia-22-iiunia-otpravila-v-rossiiu-600-tonn-iadernykh-otkhodov-2001627

#anniversary #civilization #colonializm #europe #depopulation #environment #germany #greenracism #fridays4future #humanism #nazi #radioactivity! #recycling #russianfed #uran #waste

originally posted on ussr.win