Gustavus Adolphus, by the Grace of God, King of the Swedes, Goths, and Vandals, the Great Prince of Finland, the Duke of Estonia and Karelia, and Lord of Ingria.
🔗
Густав II Адольф, Божьей милостью король шведов, готов и вандалов, Великий князь Финляндии, герцог Эстонии и Карелии, повелитель Ингрии по прозвищу "Лев Севера"".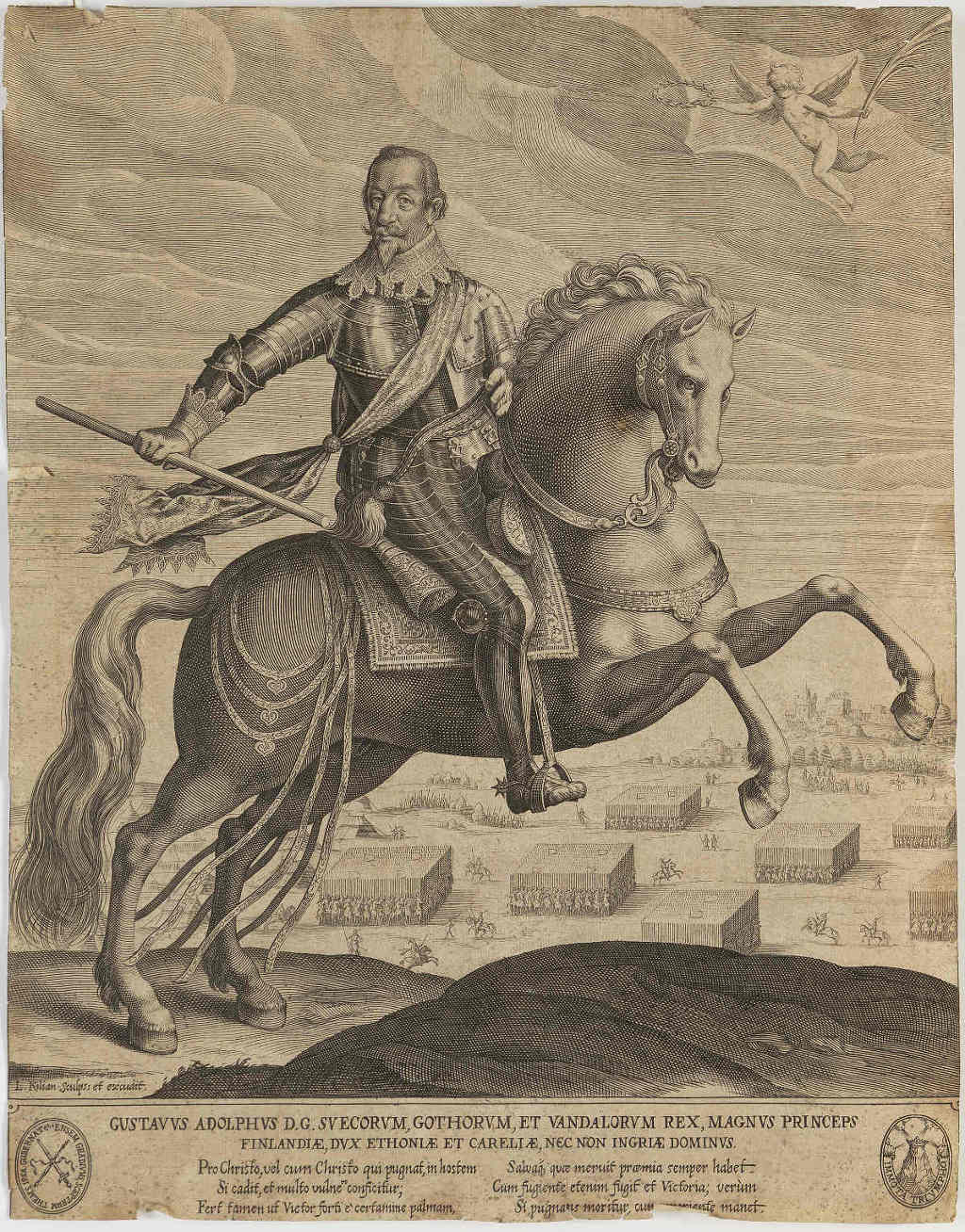 Гравюра Килиана Лукаса (1579—1637 гг.)
Дата создания: 1611 – 1637
Период времени темы: 1611 – 1632
Место создания: Германия, Франкфурт-на-Майне
Язык – латинский
Подпись: "Густав II Адольф, Божьей милостью король шведов, готов и вандалов, Великий князь Финляндии, герцог Эстонии и Карелии, повелитель
Ингрии
"
Gustavus Adolphus D.G. Svecorum, Gothorum, et Vandalorum Rex, Magnus princeps Finlandiæ, DVX Ethoniæ et Careliæ, nec non Ingriæ dominus
Engraving by Kilian Lucas (1579-1637)
Date of creation: 1611 - 1637
Theme time period: 1611 - 1632
Place of origin: Germany, Frankfurt am Main


It is alleged that the author of the engraving is a certain "Kilian, Lucas, 1579-1637"
Утверждается, что автор гравюры некий "Kilian, Lucas, 1579-1637":

🔗 https://de.wikipedia.org/wiki/Lucas_Kilian

"Member of a large family of artists, jewelers and engravers from Augsburg. Son of jeweler Bartolomeus Kilian the First."
Interestingly, in English and German the natural mention of his name begins only about 200 years ago:

"Член большой семьи художников, ювелиров и гравёров из Аугсбурга. Сын ювелира Бартоломеуса Килиана Первого"
Интересно, что в английском и немецком языке естественное упоминание его имени начинается всего около 200 лет назад: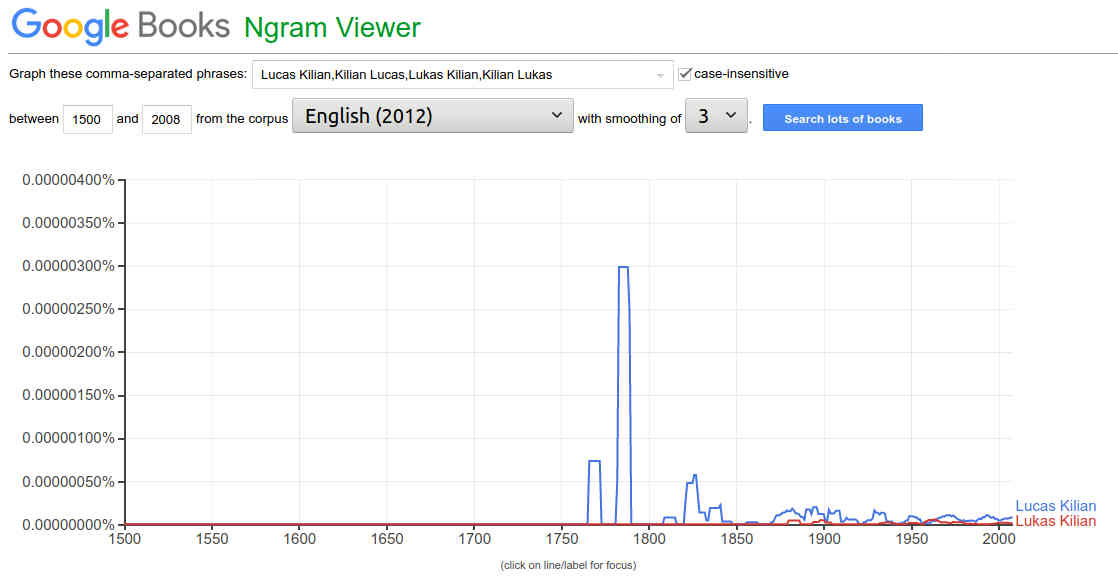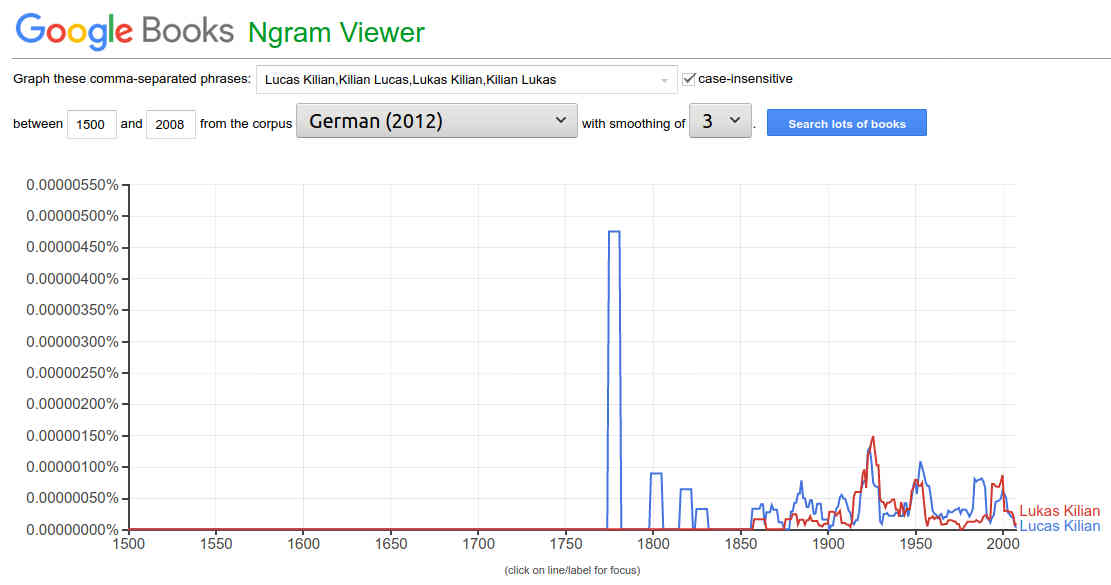 При этом, в обоих языках характерна неестественная частота упоминаний около 250 лет назад, перед тем, как начинается равномерное распределение упоминаний. Подобные графики упоминаний характерны для идеологических исторических вбросов. Вероятно, подобными древними гравюрами доказывались претензии потомков таких правителей на те или иные территории.

At the same time, both languages are characterized by unnatural frequency of references about 250 years ago, before the uniform distribution of references begins. Such graphs of references are characteristic of ideological historical hoaxes. Probably, such ancient engravings proved the claims of descendants of such rulers to this or that territory.

Given the origin of this image, i will quote an abstract to this erased academic publication from the University of Chicago website:

Today we often identify artifacts with the period when they were made. In more traditional cultures, however, such objects as pictures, effigies, and buildings were valued not as much for their chronological age as for their perceived links to the remote origins of religions, nations, monasteries, and families. As a result, Christopher Wood argues, premodern Germans tended not to distinguish between older buildings and their newer replacements, or between ancient icons and more recent forgeries.
But Wood shows that over the course of the fifteenth and early sixteenth centuries, emerging replication technologies—such as woodcut, copper engraving, and movable type—altered the relationship between artifacts and time.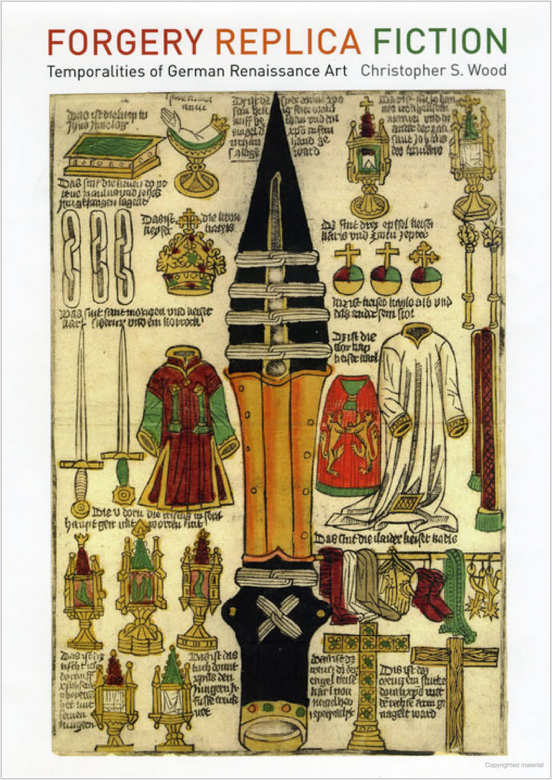 Учитывая происхождение этого изображения, процитирую аннотацию к этой удалённой с сайта Чикагского университета академической публикации:

Сегодня мы часто отождествляем артефакты с периодом, когда они были сделаны. Однако в более традиционных культурах, такие объекты как картины, изображения и здания, ценились не столько за их хронологический возраст, сколько за их предполагаемые связи с происхождением религий, наций, монастырей и семей. В результате, как утверждает Кристофер Вуд, немецкие тенденции премодерна не имели склонности определять различия между более старыми зданиями и их более новыми заменами, или же между древними иконами и более поздними подделками.
Но Вуд показывает, что в течение пятнадцатого и начала шестнадцатого веков появляющиеся технологии репликации, такие как гравюра на дереве, гравировка на меди и подвижный шрифт, успешно изменяли связь между артефактами и временем.

#art #documents #engraving #estonia #europe #finland #germany #goth #history #hoax #ingermanland #past #property #revision #seraphimerorden #sweden

originally posted on ussr.win