In November 1699, the Government of Sweden decided that, rather than adopt the Gregorian calendar outright, it would gradually approach it over a 40-year period. The plan was to skip all leap days in the period 1700 to 1740. Every fourth year, the gap between the Swedish calendar and the Gregorian would reduce by one day, until they finally lined up in 1740. In the meantime, this calendar would not be in line with either of the major alternative calendars and the differences would change every four years.
In accordance with the plan, February 29 was omitted in 1700, but the Great Northern War stopped any further omissions from being made in the following years.
In January 1711, King Charles XII declared that Sweden would abandon the calendar, which was not in use by any other nation, in favour of a return to the older Julian calendar. An extra day was added to February in the leap year of 1712, thus giving it a unique 30-day length (February 30).
In 1753, one year later than England and its colonies, Sweden introduced the Gregorian calendar. The leap of 11 days was accomplished in one step, with February 17 being followed by March 1.

🔗 https://en.wikipedia.org/wiki/Swedish_calendar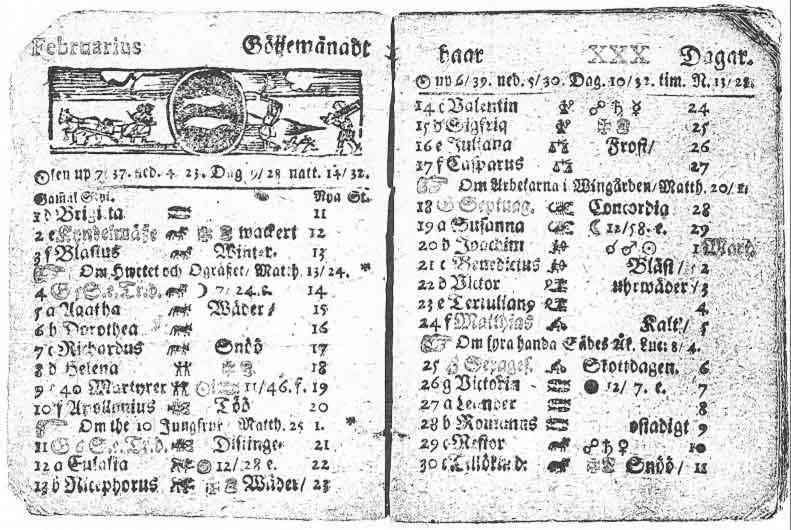 🔗 https://ru.wikipedia.org/wiki/Шведский_календарь

До 1700 года в Швеции, как и в России, придерживались юлианского календаря, отличавшегося от григорианского на тот момент на 10 дней. Но к 1700 году между старым и новым счислением образовалось 11 дней разницы. В ноябре 1699 года в Шведском королевстве было принято решение перейти с юлианского календаря на григорианский. Однако шведы не стали прыгать на 11 накопившихся к тому времени дней вперёд. Желая сохранить прежнюю разницу в 10 дней, шведский король Карл XII приказал считать 1700 год (високосный) простым, то есть откинуть день 29 февраля. В дальнейшем было решено делать переход постепенно, пропуская високосные годы в течение 40 лет, то есть все эти годы после 28 февраля должно было идти 1 марта и каждые 4 года они на один день приближались бы к григорианскому календарю. Однако, несмотря на принятый план, 1704 и 1708 годы были високосными. Из-за этого в течение 11 лет шведский календарь опережал на один день юлианский календарь, но отставал на десять дней от григорианского. Поэтому в начальный период Северной войны шведский календарь был на один день впереди русского счисления по старому стилю и в то же время отставал на 10 дней от европейского. Тем не менее шведские историки придерживались этого счисления, что в дальнейшем не раз вызывало путаницу в историографии данной войны.
В 1711 году Карл XII решил окончательно отказаться от реформы календаря и вернуться к юлианскому летоисчислению. Для этого в 1712 году в феврале были добавлены два дня и таким образом в Швеции в 1712 году появилась необычная дата 30 февраля.
Окончательно Швеция перешла на григорианский календарь в 1753 году обычным для всех стран способом: день, следующий за 17 февраля, объявили 1 марта.

🔗 http://adsabs.harvard.edu/full/1920PA.....28...18L
#calendar #christian #gregoriancalendar #juliancalendar #past #solar #synchronisation #sweden

originally posted on ussr.win