stoleshnikov@lj wrote:

125 лет назад — Джагадиш Чандра Боше, бенгальский учёный-энциклопедист использует электромагнитные волны для воспламенения пороха и включения звонка на расстоянии и публично демонстрирует свои эксперименты в Калькутте
125 years ago - Jagadish Chandra Bose, a Bengali scientist, uses electromagnetic waves to ignite gunpowder and turn on the ringer from a distance and publicly demonstrates his experiments in Calcutta.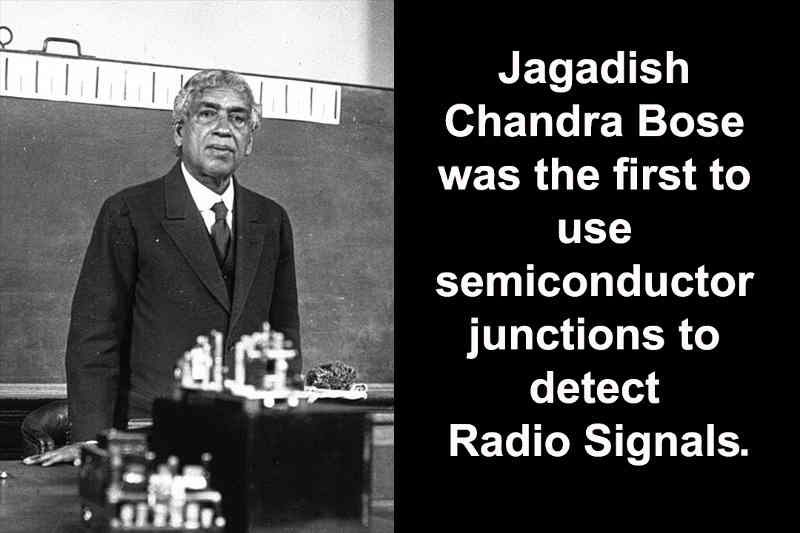 He pioneered the investigation of radio and microwave optics, made significant contributions to plant science, and laid the foundations of experimental science in the Indian subcontinent. IEEE named him one of the fathers of radio science. Bose is considered the father of Bengali science fiction, and also invented the crescograph, a device for measuring the growth of plants.
Bose subsequently made a number of pioneering discoveries in plant physiology. He used his own invention, the crescograph, to measure plant response to various stimuli, and thereby scientifically proved parallelism between animal and plant tissues. Although Bose filed for a patent for one of his inventions because of peer pressure, his objection to any form of patenting was well known.
Bose was not interested in patenting his inventions. In his Friday evening report at the Royal Institute of London, he publicly demonstrated the design of his coherer. The leading British technical journal, The Electric Engineer, for example, expressed surprise "that no secret was at any time made as to is (his signalling device's) construction, so that it has been open to all the world to adopt it for practical and possibly money-making purposes".
Bose declined the offer to sign a reward agreement from the wireless manufacturer. Sarah Chapman Bull, one of Bose' American friends, persuaded him to apply for the patent "electrical disturbance detector". The application was filed on September 30, 1901 and the US patent number 755840 was granted on March 29, 1904.
"His reluctance to any form of patenting is well known. He wrote about it in his letter from London to Rabindranath Tagore, dated May 17, 1901. And the reason is not that Sir Jagadish did not understand the benefits of patenting. Sir Jagadish was not alone in his unwillingness to patent. Conrad X-ray, Pierre Curie and many other scientists and inventors also chose this path for moral reasons."
Он был одним из основоположников исследования радио и микроволновой оптики, внёс существенный вклад в науку о растениях, основал фонды экспериментальной науки на индийском субконтиненте. Его считают одним из создателей радио и отцом бенгальской научной фантастики.
Он использовал своё собственное изобретение — крескограф, чтобы измерить ответ растений на различные стимулы, и таким образом с научной точки зрения доказал параллелизм между тканями растений и животных. Хотя Бос и запатентовал одно из своих изобретений под давлением своих коллег, было известно его нежелание к любой форме патентования.
Бос не был заинтересован в патентовании своих изобретений. В его пятничном вечернем докладе в Лондонском Королевском Институте он публично продемонстрировал конструкцию своего когерера. Так Electric Engineer выражал:
"удивление, что Бос не сделал секрета из его конструкции таким образом открыв её всему миру, что позволит использовать когерер на практике и возможно для извлечения прибыли"
Бос отклонил предложение подписать соглашение о вознаграждении от изготовителя беспроводных аппаратов. Сара Чапмэн Булл — одна из американских подруг Боса, уговорила его подать заявку на патент «детектор электрических возмущений». Заявка была подана 30 сентября 1901 года и 29 марта 1904 года был выдан патент США № 755840.
"Его нежелание к любой форме патентования хорошо известно. Он писал об этом в своем письме из Лондона Рабиндранату Тагору, датированном 17 мая 1901 года. И причина не в том, что сэр Джагадиш не понимал выгод патентования. Сэр Джагадиш не был одинок в своем нежелании к патентованию. Конрад Рентген, Пьер Кюри и многие другие учёные и изобретатели также выбрали такой путь по моральным соображениям."

#asia #bengal #india #kolkata #moral #opensource #past #patent #property #radio #revision #science #technology

originally posted on ussr.win