Ham was born in Cameroon, Africa, captured by trappers and sent to Rare Bird Farm in Miami, Florida. He was purchased by the USAF two years before his space flight. Thus, the first hominid-astronaut was an African bought by the United States.

Хэм родился в Камеруне, Африка, он был схвачен охотниками и отправлен на ферму редких птиц в Майами, штат Флорида. Он был куплен ВВС США за два года до своего полёта в космос. Таким образом, первым гоминидом-астронавтом был африканец, купленный США.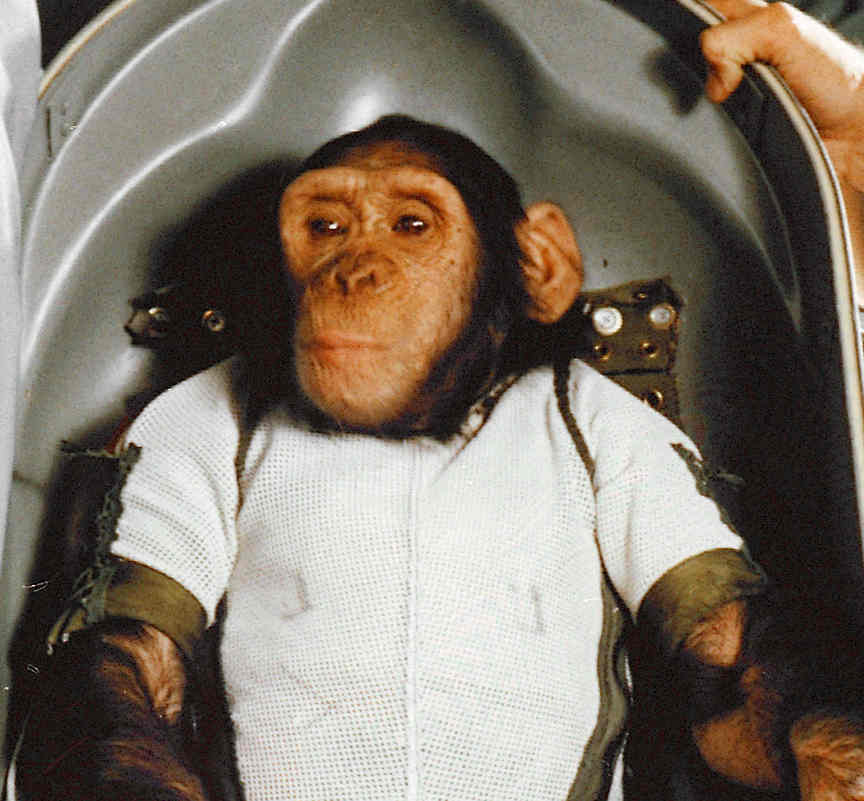 Exactly 59 years ago Ham was inserted into the spacecraft Mercury-Redstone 2 and launched into space from the launch site at Cape Canaveral.
The spaceship reached a height of 157 miles (253 km). The flight lasted 16 minutes and 39 seconds. The flight distance was 422 miles (679 km).
During the flight, Ham had to move the lever no later than five seconds in response to a blue flash. If he had not done so, he would have received an electric shock to the soles of his feet. Ham had completed his mission. Ham's reaction in space was only one second worse than on Earth. Ham confirmed that he could perform his missions in space the same way he did on Earth to avoid electrical shocks as punishments.

Ровно 59 лет назад Хэм был помещён в космический корабль «Меркурий-Редстоун-2» и запущен в космос с космодрома на мысе Канаверал. Корабль достиг высоты 157 миль (253 км). Полёт продолжался 16 минут 39 секунд. Дальность полёта — 422 мили (679 км).
В течение полёта Хэм, в ответ на вспышку синего цвета, должен был не позднее пяти секунд передвинуть рычаг, если бы он этого не сделал, то получил бы удар электрическим током в подошвы ног. Хэм выполнил своё задание. Реакция Хэма в космосе была только на одну секунду хуже, чем на Земле. Хэм подтвердил, что в космосе он может выполнять свои задания так же, как и на Земле, чтобы избежать удара электрическим током, как наказания.







What Happened to Ham in Space? *Sad Story of Ham*
by Mr Scientific on YouTube

🔗 https://invidio.us/watch?v=Bv5uwxpdp7o
The Mercury spaceship with Ham on board splashed down to the Atlantic Ocean and lifted to the USS Donner (LSD-20).
After the space flight, Ham spent 17 years in the Smithsonian Zoo in Washington, D.C., and then in North Carolina Zoo.

Корабль «Меркурий» с Хэмом на борту приводнился в Атлантическом океане и был поднят на спасательное судно USS Donner (LSD-20).
После космического полёта Хэм 17 лет жил в Смитсоновском зоопарке в Вашингтоне, а затем в зоопарке Северной Каролины.

#africa #astronaut #cameroon #chimpanzee #concentrationzoo #hominid #humanism #nasa #primacy #revision #space #spacetime #technology #usa