Monkey-pig hybrids created by Chinese scientists
🔗 https://www.independent.co.uk/news/science/monkey-pig-hybrid-science-chimera-organs-a9236846.html

Chinese scientists have successfully bred monkey-pig hybrids as part of research into the growth of human organs for transplantation in animals.
Although the two chimera piglets died within a week of being born, both were found to have DNA from macaque monkeys in their heart, liver, spleen, lung and skin.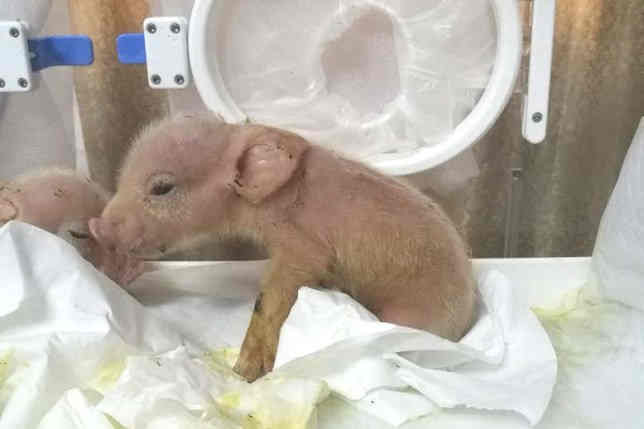 Гибриды обезьяны-свиньи созданны китайскими учеными

Китайские ученые успешно вырастиои гибриды обезьян-свиней в рамках исследований по выращиванию внутри животных человеческих органов для трансплантации.
Хотя оба "поросьяны"-химеры умерли в течение недели после рождения, было установлено, что в сердце, печени, селезенке, лёгких и коже обоих обнаружено ДНК макак.


Related materials/материалы по теме:

Spanish scientists are making 'very promising' human-monkey chimeras in China.
🔗 https://bigthink.com/surprising-science/human-monkey-hybrid
Испанские ученые делают "очень перспективные" человеко-обезьяньи химеры в Китае.

Human-Pig Hybrid Created in the Lab of Salk Institute for Biological Studies, California
🔗 https://www.nationalgeographic.co.uk/science-and-technology/human-pig-hybrid-created-lab
Гибрид человека и свиньи создан в лаборатории Института биологических исследований Салка, Калифорния

#biomedical #chimera #china #hybrid #humanism #medical #medicalexperiments #monkey #pig #research #science #spain #transplantation #usa