English version:

During the Russian Revolution in 1917, the tiara was hidden with other jewels somewhere in Vladimir Palace in Petrograd, and later saved from Soviet Russia by Albert Stopford, a British art dealer and secret agent. In the years to follow, Princess Nicholas sold pieces of jewellery from her collection to support her exiled family and various charities.

Russian version:

In the summer of 1917, Albert Stopford, dressed in a woman's (!) dress, entered the Vladimir Palace. The apartment of the Grand Duchess was located on the second floor - a living room in the style of Louis XVI, an office, a boudoir, a bedchamber and four more rooms. Jewels of 244 items, including the Vladimir tiara, was in the boudoir.
The thief opened a secret door and folded the stolen items into suitcases. Thanks to English citizenship, he went through all the cordons without hindrance. Therefore, thanks to this Englishman and his citizenship, the entire globe periodically watches Her Majesty the Queen of England in the stolen Russian tiara...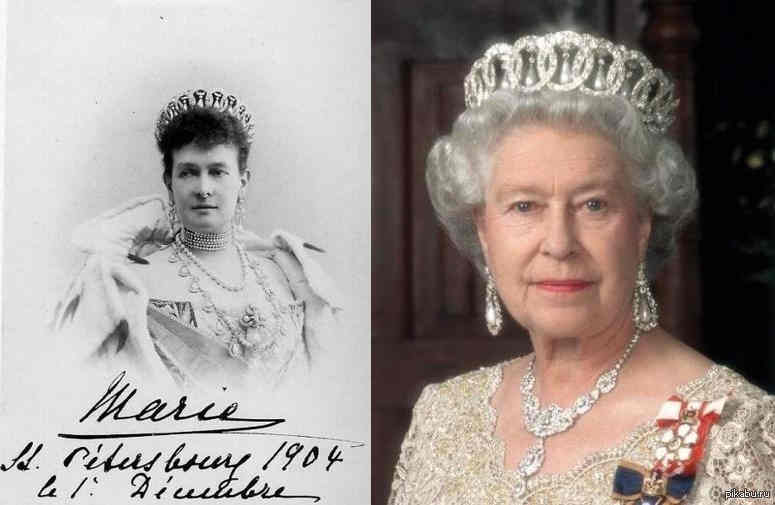 Английская версия:

Во время революции 1917 года тиара была спрятана где-то во Владимирском дворце в Петрограде вместе с другими драгоценностями, а затем спасена от советской России британским торговцем произведениями искусства и тайным агентом Альбертом Стопфордом. В последующие годы принцесса Николас продала ювелирные изделия из своей коллекции, чтобы поддержать свою семью в изгнании и различные благотворительные организации.

Русская версия:

Летом 1917 года Альберт Стопфорд, переодетый в ЖЕНСКОЕ (!) платье, проник во Владимирский дворец. Апартаменты великой княгини находились на втором этаже — гостиная в стиле Людовика XVI, кабинет, будуар, опочивальня и еще четыре комнаты. Драгоценности из 244 предметов, в том числе Владимирская тиара, находился в будуаре.
Вор вскрыл потайную дверь и сложил украденное в чемоданы. Благодаря английскому гражданству, он беспрепятственно прошёл через все кордоны. Потому, благодаря этому англичанину и его гражданству, весь земной шар периодически наблюдает Её Величество королеву Англии в украденной у русских короне…

Source:

#^

https://historyscan.d3.ru/znachit-tak-brasletik-etot-chistyi-ego-kopchionyi-ne-voroval-a-v-karty-u-menia-vyigral-1883084
#artdealer #charite #comparison #history #honisoitquimalypense #property #russia #saving #stealing #tiara #uk #ussr