That is where Greenpeace funding primarily is directed - towards raising more funds in order to pay the wages and the operating expenses of what has become one of the largest feel good organizations in the world. Let's face it Greenpeace has become the generic environmental organization and people feel when they join Greenpeace that they are part of the solution and not part of the problem.
The money all gets eaten up by bureaucrats, and administrators, and lawyers – that's where the money goes. The big organizations, I call them 'feel good organizations' – people join them to feel good. They say, 'hey, I'm an environmentalist, I'm a member of the Sierra Club,' or 'I'm a member of Greenpeace'.

These are the words of Captain Paul Watson, the founder of the Society for the Protection of Marine Life, a well-known activist of movements for environmental protection and animal rights. Time Magazine named him "the ecological hero of the XX century", he and his team repeatedly stopped hunting whales and other marine mammals. Since 1971, he has been one of the founders of Greenpeace, from which he was expelled in 1977.

Machiavellianism and mysticism alike played their parts in the shaping of the consciousness this movement expressed. It embodied at times a religious fervor, at other times, a ruthlessness that bordered on savagery; it was born out of desperation, out of fear, out of a love that transcended not only the boundaries of race or creed but even mere humanness. Corruption and greatness both played their parts and both took their tolls.

It was quote from the book "Rainbow Warriors" by Robert Hunter, also one of the founders, the first president of Greenpeace.

Don White, who founded the organization's U.S. branch, left in 1985 over "increasingly strained accountability to its supporters, and its accelerating drift away from wildlife issues," and has since slammed Greenpeace USA, accusing it of "capitalizing… on claiming the accomplishments of others as their own while creating photo opportunities for fundraising."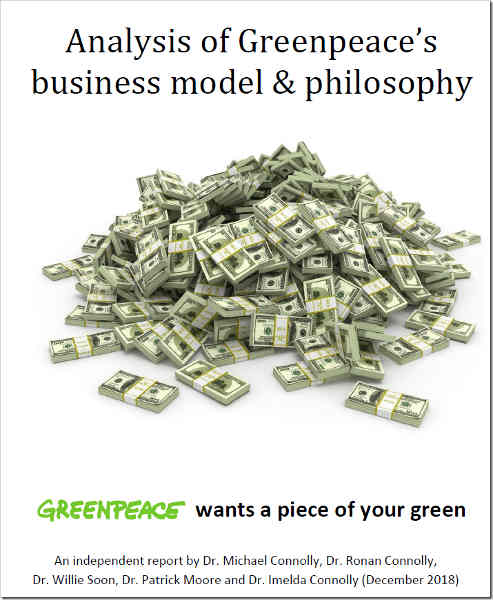 It is a well-known fact that is clearly demonstrated in this documentary film when Greenpeace supported indigenous Indians whose sacred forests are being cut down in North America because of the valuable Western red cedar. Greenpeace acted as an advocate for indigenous peoples, forests and the environment, but then signed the Canadian Boreal Forest Agreement with 21 logging companies in May 2010, with the result that Greenpeace and some other international conservation organisations are committed not to obstructing the legal logging activities of the parties to the agreement.

Greenpeace is a declaratively cosmopolitan organization that is not formally subordinate to any political or economic force in the world and is completely uncontrolled by anyone. In these qualities, only a few religious denominations can compare with Greenpeace, and perhaps even today's secret societies that weave their networks around the world. In 1998, Greenpeace's share of its environmental campaigns was only 38% of the total their incomes. The rest was spent mainly on investing in various funds (21%), the needs of the administration (15%), supporting actions (9%), informing the public about their merits (9%) and spending on positive feedback in the press (8%). However, official Greenpeace statistics insisted that out of a total income of 125 million in 1998, 121 million were private donations from 2,400,000 "invisible citizens" around the world.

It appears that the corrupt leadership of this organization uses volunteers and volunteers from all over the world (led by bright ideas of environmental protection) for its profitable business free of charge. If you have any other similar examples of Greenpeace's activities or arguments in support of them, please leave them in your comments.

#capitalism #documents #environmentalism #greenpeace #hoax #lobby #money #nature #revision