#^
https://royalsocietypublishing.org/doi/10.1098/rspb.2019.0681
Modern human societies show hierarchical social modularity (HSM) in which lower-order social units like nuclear families are nested inside increasingly larger units. It has been argued that this HSM evolved independently and after the chimpanzee–human split due to greater recognition of, and bonding between, dispersed kin. We used network modularity analysis and hierarchical clustering to quantify community structure within two western lowland gorilla populations. In both communities, we detected two hierarchically nested tiers of social structure which have not been previously quantified. Both tiers map closely to human social tiers. Genetic data from one population suggested that, as in humans, social unit membership was kin structured. The sizes of gorilla social units also showed the kind of consistent scaling ratio between social tiers observed in humans, baboons, toothed whales, and elephants. These results indicate that the hierarchical social organization observed in humans may have evolved far earlier than previously asserted and may not be a product of the social brain evolution unique to the hominin lineage.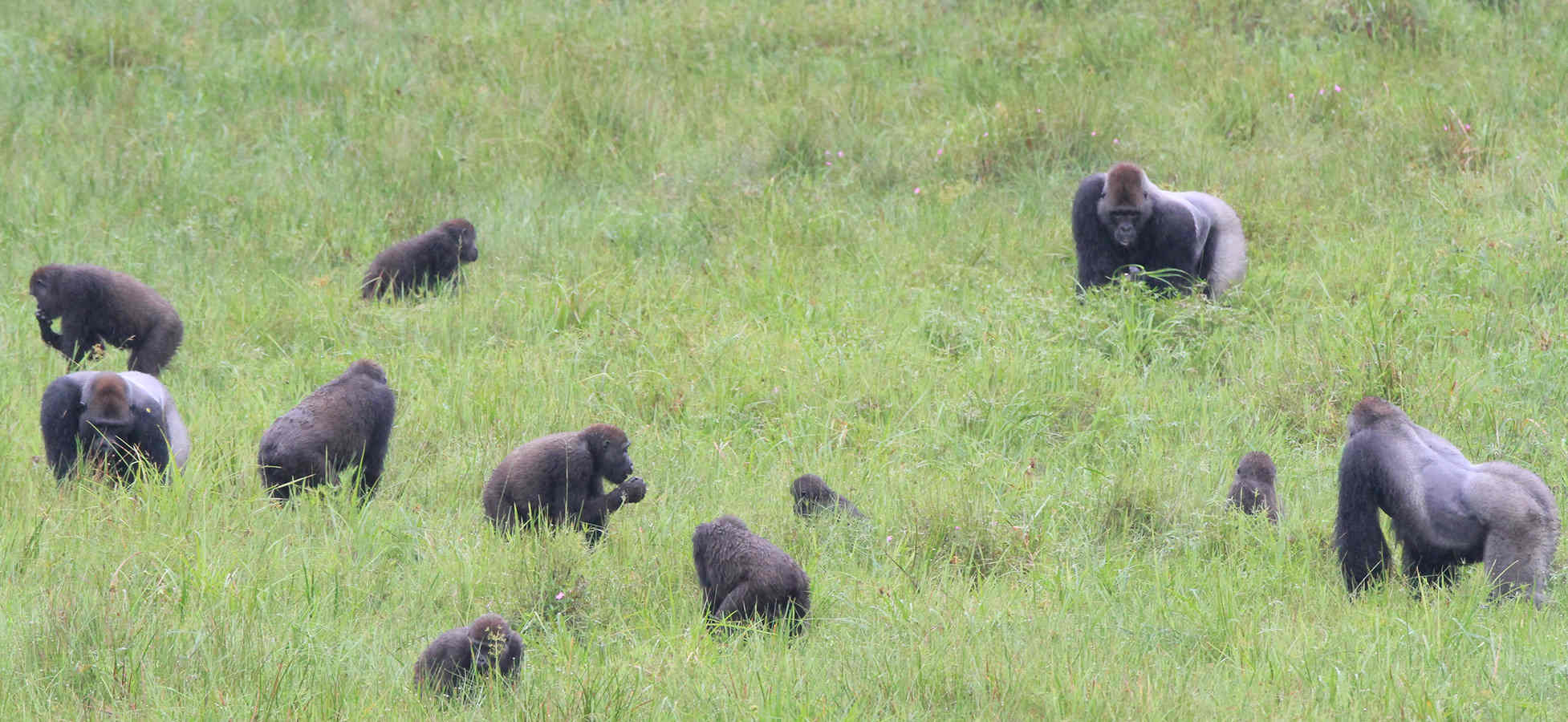 Длившееся шесть лет исследование показало, что социальное устройство горилл гораздо сложнее, чем считалось раньше. Оно напоминает иерархию человеческого общества, которая состоит из семей, родов или кланов. Это может означать, что человек разумный мог образовывать многоуровневые системы сообществ гораздо раньше, чем предполагали ученые.
Исследование подтвердило ряд ранее известных данных: гориллы живут небольшими группами, которые состоят из взрослого самца, одной или нескольких самок и их потомства. Молодые самцы могут некоторое время жить в одиночестве, а самки иногда переходят из одной группы в другую. Средний размер такой группы — 13 особей, включающих потомство самца и самок и их родственников. Ее можно сравнить с большой патриархальной семьей у человека.
Кроме того, как показало исследование, такие семейные группы состоят в более крупных сообществах, в которых в среднем 39 особей. Условно их можно назвать кланами или родами. Семьи, которые входят в такой «клан», общаются друг с другом больше, чем с семьями из других «кланов». Ученые предположили, что у горилл есть и более крупные структуры, в которые входят эти кланы, но для такого заключения данных, собранных за период исследования, не хватает.




#^

https://chrdk.ru/news/gorillaz_klan

#africa #clans #ethology #gorillas #hominid #nature #property #science