Congratulations, Syaday is a holyday that occurs on the 5th day of Confusion. It is dedicated to the Apostle Sri Syadasti.
This Holiday is celebrated by altering your own consciousness in any way that is permissible to your superego and repeating the following affirmation 666 times:
Sri Syadasti Syadavaktavya Syadasti Syannasti Syadasti Cavaktavyasca Syadasti Syannasti Syadavatavyasca Syadasti Syannasti Syadavaktavyasca
In the alternative, some prefer a chant.
Unlike a song, chants are not sung but chanted. This particular one is much enhanced by the use of a Leader to chant the Sanskrit alone, with all participants chanting the English. It also behooves one to be in a quiet frame of mind and to be sitting in a still position, perhaps The Buttercup Position. It also helps if one is absolutely zonked out of his gourd.
RUB-A-DUB-DUB O! Hail Eris. Blessed St. Hung Mung.
SYA-DASTI O! Hail Eris. Blessed St. Mo-jo.
SYA-DAVAK-TAVYA O! Hail Eris. Blessed St. Zara-thud.
SYA-DASTI SYA-NASTI O! Hail Eris. Blessed St. Elder Mal.
SYA-DASTI KAVAK-TAV-YASKA O! Hail Eris. Blessed St. Gu-lik.
SYA-DASTI, SYA-NASTI, SYA-DAVAK-TAV-YASKA O! Hail Eris. All Hail Dis-cord-ia.
RUB-A-DUB-DUB
It is then repeated indefinitely, or for the first two thousand miles, which ever comes first.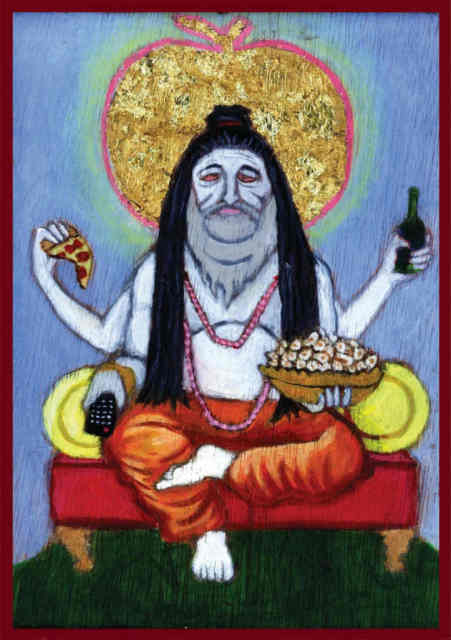 Поздравляю, Сьядень - праздник, проходящий в 5-й день замешательства. Он посвящен апостолу Шри Сьядасти.
Этот праздник отмечается путем изменения вашего собственного сознания любым допустимым для вашего суперэго способом и повторения следующего утверждения 666 раз:
Шри Сьядасти Сьядавактава Сьядасти Сьиннасти Сьядасти Кавактавьяка Сьядасти Сьиннасти Сьядаватавяска Сьядасти Сьиннасти Сьядаватавяска
В альтернативной версии, некоторые предпочитают воспевание хоралом.
В отличие от песни, эти слова не поются, а воспеваются хором. Эта особенность значительно усиливается благодаря использованию лидера для воспевания на санскрите, в то время когда остальные участники хора воспевают на русском. Также следует быть в спокойном настроении и сидеть в неподвижном положении, возможно, в позе Лютика. Если вы совершенно исключены из своего сообщества, это сильно поспособствует воспеванию:
Руб-а-даб-даб О! Славим Эриду. Благословляем Сен-Хунг Мунга.
Сья-дасти О! Славим Эриду. Благословляем святого Мо-Джо.
Сья-давак-тавя О! Славим Эриду. Благословляем Зара-Туда.
Сья-дасти Сья-насти О! Славим Эриду. Благословляем Святого Старца Мала.
Сья-дасти Кавак-тав-яска О! Славим Эриду. Благословляем Святого Гу-лика.
Сья-дасти, Сья-насти, Сья-давак-тав-яска О! Славим Эриду. Все славим Дис-корд-и-я.
Руб-а-даб-даб
Затем хорал повторяется бесконечно или в течение первых трёх тысяч километров, в зависимости от того, что наступит раньше.

Also today the Fearless Fred Day (also called Gulikday and Fredday)
A Whollyday occurring on 5 Confusion.
We won't get in an argument over whether this holiday truly belongs to St. Sri Syadasti (etc.) or to St. Gulik the Stoned. Because of course it belongs to St. Fearless Fred. Honor the Five Star Saint and President of planet Ek-sen-trik-kuh by walking barefoot, riding a moped, or climbing up a rose trellis to rescue a maiden in distress and/or wrestle a maiden out of her dress (willing maidens only). Call everyone and everything "Fred." This is also known as Fredday.

Также сегодня день Бесстрашного Феди (также известный как День Гулика или День Феди)
Проходит целый день 5 замешательства.
Существуют теологические споры о том, кому действительно принадлежит этот праздник святому Шри Сьядасти (и ко.) или святому Гулику Каменному. Потому как, конечно, день принадлежит святому Бесстрашному Феди (примечание: согласно учению секты Эк-сен-трик-кух). Уважайте Пятизвездного Святого и Президента планеты Эк-сен-трик-кух, ходя босиком, катаясь на мопеде или взбираясь на цветочную решетку, чтобы спасти девицу, терпящую бедствие, и/или чтобы вырвать деву из ее платья (только для желающих этого девиц). Называйте в этот день всех и всё «Федя». Это день известень как Федядень.

#asia #chant #ek-sen-trik-kuh #erisian #freddy #holiday #principiaharmonia #syaday