Congratulations, today is holyday of the season of Discord, Discoflux. Celebrated on the 50th day of that season.

Поздравляю, сегодня праздник сезона Дискорда (латинское название Раздора), Дискотечь. Отмечается в 50-й день этого сезона.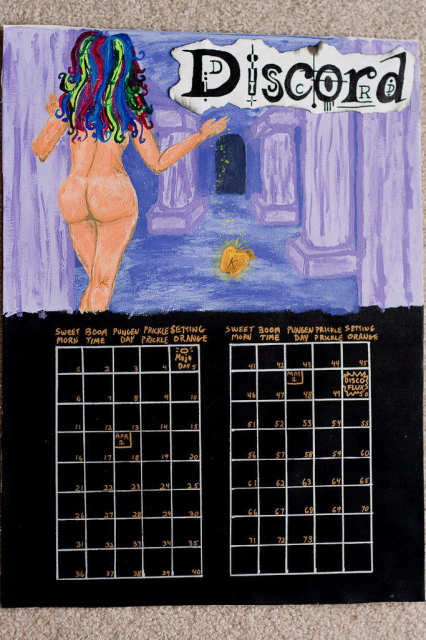 The Principia Discordia doesn't indicate what to do, but do something that promotes Discord, or maybe Disco.

Dress as you would to go to a disco sometime in the 1950s through 1970s, imagine you're the Disco King or Queen (or both), then begin dancing to the music in your head. Pretend the discotheque is at your local market, a playground, or in front of a house of worship. Leave before the police arrive. If one shows up before you depart, tell the officer, "Love the threads. Wanna boogie?" If the officer declines the invitation, apologize profusely for your mistake and claim you forgot to take your medication.

Better yet, forget the whole thing.
Original text from Ek-sen-trik-kuh Discordia: The Tales of Shamlicht
Принципия Дискордия не указывает, что конкретно делать, так что делайте что-то, что продвигает Дискорд или хотя бы просто Диско.

Оденьтесь так, как если бы вы пошли на дискотеку в 1950–1970-х годах, представьте, что вы король диско или королева (или одновременно), а затем начните танцевать под музыку звучащую в наушниках. Переместите дискотеку на местный рынок, на детскую игровую площадку или прямо перед каким-нибудь молитвенным домом. Продолжайте там танцевать до прибытия полиции. Если полиция появится скажите: «Любите нити. Хотите буги?». Если офицер отклонит приглашение, извинитесь за вашу ошибку и заявите, что вы забыли принять лекарство.

А ещё лучше, просто забудьте всё это.


#disco #discoflux #discord #erisian #fluxday #holiday