They don't even give me rest, all the time they climb into my personal space.
Limbani
Они даже не дают мне отдохнуть, все время лезут в мое личное пространство.
Лимбани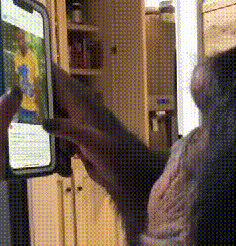 #^
https://www.dailymotion.com/video/x76lxuk
At the zoo, guests can pay to pet and take photos with exotic animal residents, including tigers and monkeys — a practice commonly associated with abuse and exploitation. Despite the zoo's supposed mission to educate people and conserve chimps, experts say it's doing the exact opposite.
https://www.thedodo.com/in-the-wild/zoo-chimp-Limbani-abuse-miami
В этом зоопарке гости могут расплатиться с домашними животными и сфотографироваться с экзотическими обитателями, в том числе с тиграми и обезьянами - практика, обычно связанная со злоупотреблениями и эксплуатацией. Несмотря на предполагаемую миссию зоопарка по обучению людей и сохранению шимпанзе, эксперты говорят, что это происходит с точностью до наоборот.

#animatedgif #capitalism #chimpanzee #exploitation #hominid #revision #science #slavery #smartphone